Hey there, I'm Lesley. Welcome to the latest issue of Failing Forward — A weekly newsletter where I share my journey as a bootstrapped founder.
There's no bravado here, I'm scared of failure. I write this newsletter as a reminder that failure is not just okay, it's often the best way forward.
---
#dailychill
For 2 weeks in November, my friend Vivek and I held each other accountable every day for taking time to chill.
It went really well and took little effort. You can join if you like.
Here's how it started.
I spend too much time in front of my computer. To counter this, I often experiment with self-care, which I occasionally talk about on Twitter.
Vivek, who's also building software and similarly spends too much time in front of his computer, decided to join in.
You might like to know that I've never met him in person. He's a Twitter friend!
We didn't do anything special. We simply spent 10 minutes chilling. No phones. No distractions. Just being in the moment.
We enjoyed our first day, saw the potential and decided to continue.
Nobody followed our daily chills. Nothing went viral. But you only need one accountability partner. Not 10,000.
We persevered.
After a couple of days, we named our experiment. We called it daily chill.
We also agreed to keep going for a month.
We had some really good daily chills…
But also some bad experiences…
Some days, we didn't chill at all.
At the end, we just… stopped. This happens with many projects, life gets in the way, and less important projects get shelved and forgotten.
But, I kinda miss our daily chills…
So I thought I'd resurrect it.
I created a post on Twitter and have pinned it to my profile.
Join in by commenting with your daily chill.
No pressure to do it daily. Post whenever you like.
---
I'm building Newsletter Glue — an email newsletter platform on WordPress with a Gutenberg-first approach.
Here's what I got up to this week…
🔥 Highlights from this week
Made a big breakthrough with our publishing workflow.

I accidentally sent last week's newsletter when intending to save the post. This workflow has always frustrated me about Newsletter Glue, and I know others have been feeling similarly frustrated.

I finally figured out a way to add a subtle double confirmation to the workflow. No extra clicks for the main workflow, but a huge improvement when you're updating the post. This won't make sense to most of you, but trust me, it's a big deal!
💔 Lowlights from this week
More bugs. Boo! 🐛
We've fixed them all though, so that's good.
✅ Completed this week
I tried something new last week and posted our actual release plans for the week on Twitter.
It was kinda fun and forced me to make it super clear (I'm sure Ahmed appreciated that 😅). I don't think this is sustainable, but it was fun publishing it, and actually delivering on time.
Here is everything we did in its entirety.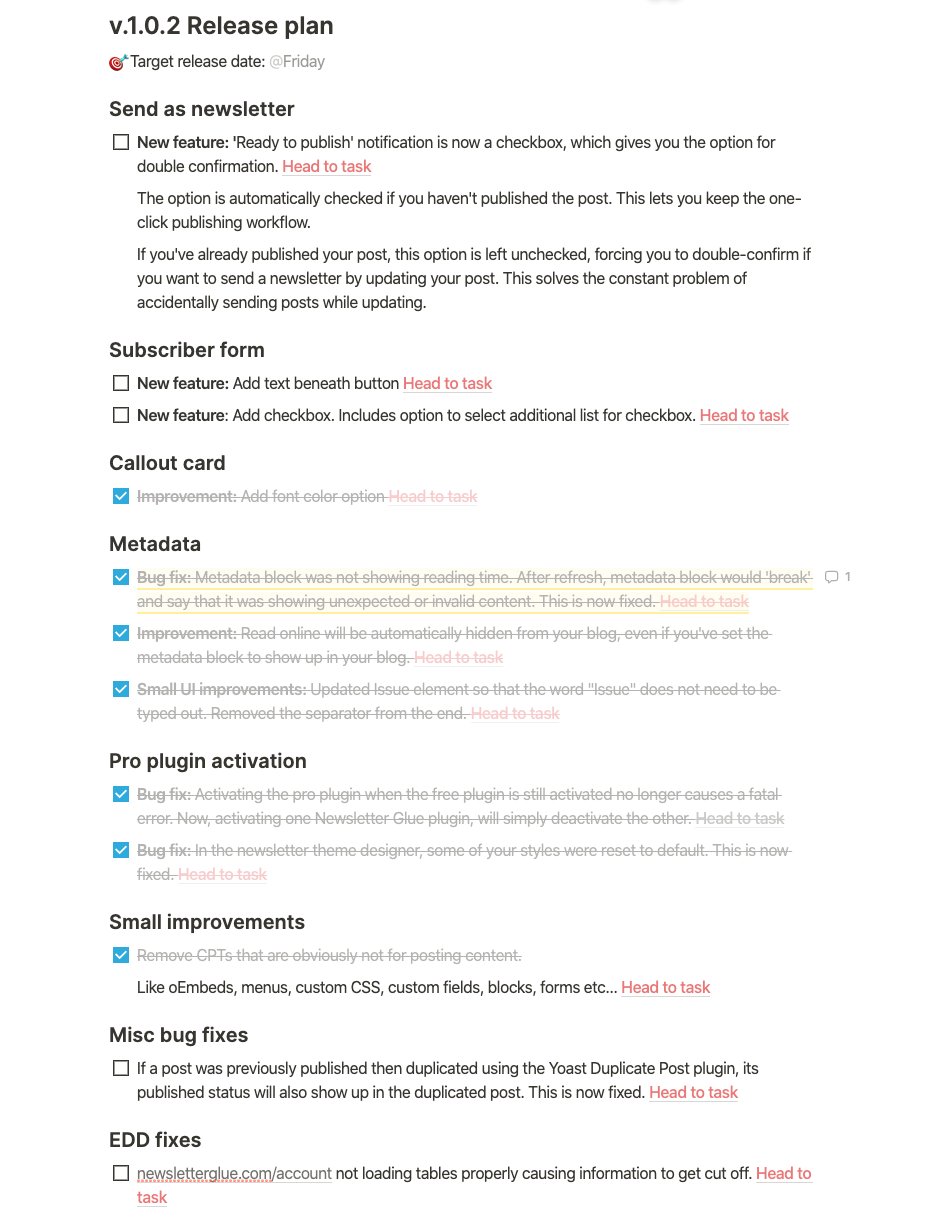 🎯 Goals for next week
I identified we have 3 key things on the marketing front to urgently tackle:
Changing the target customer a little bit to bloggers who would like to start publishing a newsletter to promote their blog.
Explain and show what Newsletter Glue can do.
Get more awareness
To that end, I'll be writing a blog and newsletter starting next week.
I've already laid the groundwork for this, and hope to publish ASAP.
---
Worth a thousand words
---
Worth your while: Here are my favourite links from this week
Tony Piloseno amassed 1.2mil followers who enjoyed watching him mix paint. He then tried to tell his employer, Sherwin-Williams, to use this as an opportunity to appeal to a new audience (teens and college kids on TikTok who will be buying houses and needing paint in the not-too-distant future). But instead they fired him for filming on company time and using company resources (he bought the paint, but used their equipment).
It's clear the internet feels like Sherwin-Williams (the paint company) really dropped the ball on this one. But I don't think it's a straight forward call. Sherwin-Williams probably employs thousands of kids like Tony. And it would have been tough to make him the face of the company, or even simply support his TikTok account; as that would encourage other employees to be on social media during work hours and use store equipment for personal reasons.
I don't think there is a clear right move in this case; even more so since I don't know the internal forces at play.
Regardless, I thought the article was interesting!
Empires rise and fall. And it seems they all broadly follow the same path.
I don't know how subjective this article is as I don't know much about history, but it made sense to me.
"Interestingly, Glubb also noted that this period of an empire's history is frequently marked by the building of walls. From Hadrian's Wall to the Great Wall of China, wall-building is an inward-looking, defensive gesture aimed at hoarding and protecting wealth." [editor's note: 🤭]
"What lessons can we draw, then, from Glubb's account of the Fate of Empires? Two things stand out. First, the need for a value higher than money. Second, the need for a spirit of service and self-sacrifice to a cause of which we are all a part."
This is an oldie, but a goodie. Written in 2010 by the inventor of Gmail.
"By focusing on only a few core features in the first version, you are forced to find the true essence and value of the product. If your product needs "everything" in order to be good, then it's probably not very innovative (though it might be a nice upgrade to an existing product)."
A nice reminder.
---
Before you go
Here are a few things you can do if you enjoyed reading this newsletter:
🍕 Become a subscriber: lesley.pizza/join
🗄 Explore past issues: lesley.pizza/newsletter
👉 Share this issue with friends who might enjoy it:
🌈 Get in touch/Share cool Internet stuff: cheese(at)lesley.pizza
➕ Follow me on Twitter: @lesley_pizza